If you're shopping for a luxury home in Chicago, looking for houses for sale in Lincoln Park is a great place to start your search. This north side suburb has been well known as one of the most affluent in the city for many years. Nothing much has changed, and this is still one of the most desirable areas of the city to live in.

If you are browsing for Lincoln Park homes for sale, you probably want to buy something classic that really evokes the spirit of the Windy City's classic architecture. Most people who are looking for Lincoln Park real estate are looking for the same thing. So, here's an outline of some of the most popular, classic Chicago-style homes you can find in Lincoln Park.
Historic homes
Many people who are looking for Lincoln Park real estate want something that reflects the history of the area. While the original neighborhood that was created in 1843 wasn't quite as chic and desirable as it is today, over the decades, many famous architects have created some very iconic historic homes and buildings in the area.

In fact, some people who are looking for homes or even Lincoln Park condos for sale are looking specifically for buildings and homes that are a hundred years old or more. The best buildings in this category have been modernized and upgraded without eliminating their historic charm. So, you get the best of both worlds — living in a building with modern amenities but still immersed in history.

Georgian Revival
Georgian revival homes are almost always symmetrical, usually two stories, and have hipped roofs with dormer windows. They're built of brick or stone and usually have contrasting trim, often white, with classic black accents on doors or shutters.

These stately-style homes often have elaborate porticos with columns and ornate lanterns. So, if you're looking for classic style, one of the many Georgian revival buildings might be the right Lincoln Park Real Estate for you.

Four plus one
A four plus one building is a building that consists of four stories above ground and one below. It was a clever design compromise by Lincoln Park architects who were working around the city's zoning bylaws, which only allowed residential buildings up to four stories.

Most four plus one buildings are multi-unit residences, so if you're looking for Lincoln Park condos for sale and you want something that has classic Chicago flair, this might be the right choice.

Chicago school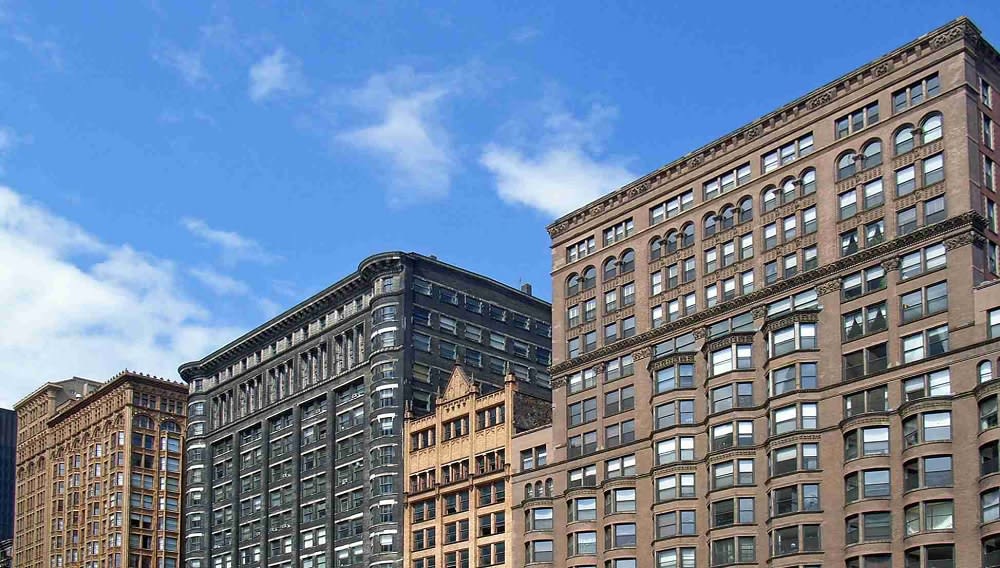 Photo courtesy of ThoughtCo
Chicago school buildings are one of the most classically Chicagoan facades, and whether it's one of the original buildings from the 1880s or a modern interpretation, it's a great choice for a home in Lincoln Park.

Chicago school buildings are stocky and sturdy, clad with masonry, and have chunky decorative trim. They very often have the classic "Chicago window," which is a fixed glass center panel with two narrow sashes alongside. Everything about this style is very symmetrical, so you can expect to see several orderly rows of the same kind of window on each floor.

Greystones
Greystones might be one of the most classic styles of Lincoln Park real estate. As the name suggests, they're usually built out of large grey stones. Sometimes the stones are smooth, and sometimes they're rough-hewn. They are usually two or three-story buildings, and usually, each floor is a self-contained unit. So, this is another great choice for someone looking for a classic-style Lincoln Park condo for sale.

Bungalows
The bungalow is another classic Chicagoan style of home, and you will find many of these in residential neighborhoods like Lincoln Park.

They're low buildings with wide front facades. The roof is lower-pitched and almost always has symmetrical dormers. They're usually only one and a half stories (plus a basement), and they often have bay windows on the main floor.

Bungalows are sought after Lincoln Park real estate for families because they have outdoor space that children and pets can enjoy.

French-style architecture
You may not expect to find French-style architecture in Chicago, but it's actually one of the most popular and classic styles in Lincoln Park real estate.

These buildings are usually pale limestone with white windows and grey slate roofs. They feature arched many paned windows and are nearly always symmetrical. Gardens are fenced in wrought iron, and they're perfectly symmetrical too. In fact, it's almost like being transported to Provencal!

Updated historic homes & buildings
When many people are shopping for luxury homes in Lincoln Park, they want the best of both worlds. Whether it's a Greystone, a bungalow, or a French-style home, they want the history and charm but all the modern conveniences.

Many architects, designers, and developers know this, and there are many buildings in Lincoln Park that offer exactly that — the perfect done-for-you mix of modern style and conveniences with old-school charm.

The key to finding the right refurbished historic building or home in Chicago is choosing the right real estate agent. A good Lincoln Park real estate knows the history and style of every street in the area like the back of their hand. They know the designers and architects that have been quietly working to revive and renew buildings too, so they can help their clients to find the right kind of home for their needs.

A good updated historic Lincoln Park home has not had its character and charm removed. Instead, the best designers work hard to preserve all the history and just enough of the wear and tear to remind you that you're living in a home that has seen centuries pass by. Add all the modern conveniences and safety features, and it's the perfect piece of Chicago history.

Fixer-uppers
Some people who are looking for Lincoln Park homes for sale don't want to move into a "done for them" updated Lincoln Park home. They want enough of their own projects left to be done that they can put their own stamp on the property they choose.

While it's getting harder to find houses for sale in Lincoln Park that aren't already refurbished, redesigned, and a move-in-ready piece of living history, they do still exist.

Again, a specialist Lincoln Park real estate agent is the best person to turn to if this is what you're looking for. They will know exactly where to find the hidden gems and the diamonds in the rough and can negotiate a deal that leaves enough room to add your own style and personality.
New builds
New builds aren't as common in Lincoln Park, but it's not completely unheard of to find one when you're looking for houses for sale in Lincoln Park or on the hunt for a condo for sale in Lincoln Park, Chicago.

Many new builds in the area do somewhat emulate the appearance of the older buildings, but there are also some more modern options.

If you're looking for a newer home in this area, it's best to find a real estate agent who specializes in Lincoln Park real estate. They'll be able to point you towards the best new developments in the area and match you with homes and buildings that meet your needs.
Condos & apartments
If you're looking for a lock-up-and-go lifestyle in Lincoln Park, you'll be pleased to know that there are some apartments and condos available. Most are located in lower-rise buildings, and most of those buildings have fantastic amenities. Look for a building near the park if you need some green space, or find one that's close to restaurants, bars, and theatres for nightlife that is within walking distance.

Lincoln Park has a great nightlife scene, so if you're looking for entertainment near your condo or apartment, be sure to mention that to your agent, too.
A truly special neighborhood
Lincoln Park might not always have been the heart of chic Chicago society, but over the years, that's exactly what it has become.

The area is packed with historic homes and buildings, but it's also one of the most affluent parts of the city and is a great place for families that appreciate finer, more refined lifestyles, young professionals, and retirees who are looking to move out of the hustle and bustle of the city without being too far from the amenities and attractions. Between the homes in Lincoln Park — classic and modern — you will find endless manicured pathways, perfect parks, and attractions that have stood the test of time, like the botanical gardens.

It's the perfect mix of historic and modern, urban and parklike and connected, but still a great place to stop and take a breath.
Looking for a Lincoln Park real estate agent?
KD Homes
is a Chicago real estate specialist who has several agents who specialize in matching our clients with Lincoln Park homes and condos that meet their needs, their design aesthetic, and their budget. So, if you're looking for a home in this iconic part of the city, whether it's to own a part of history or a brand new condo,
contact KD Homes
today.

*Header Photo courtesy of Choose Chicago